Croatia has enchanted lovers of the sea for centuries. The temperatures, blue skies and clear waters are just a few reasons why superyachts are taken to this side of the Mediterranean. Not to mention the authentic local delicacies, rich history and unspoiled nature that gives Croatia its allure.
Croatia invokes images of turquoise waters, craggy coves and medieval fortresses nestled by the seafront. With over 1,185 islands on the Dalmation coast, we can guarantee a unique experience in one of the most popular destinations for yacht charters in the summer months. There are plenty of destinations waiting to be explored within the conuntry, especially on a charter according to the diversity, the architecture and fra od each spleepy Medieval coastal village and other vibrant cities. Croatia boasts 6000 kilometres of natural coastline, along which sit craggy beaches, dense pine forests and hidden coves. Seemingly curated with superyacht cruising in mind, the country exhibits heavenly archipelagos situated close to shore, ideal for expansive exploration in a short amount of time.
For the gastronomically inclined, Croatia plays host to Michelin star eateries and fresh and flavoursome local cuisine. Indulge in dishes which centre around seafood and fuse Mediterranean and Balkan palates. The Croatian wine scene is also quickly gaining recognition, home to several distinct wine regions which cater to all tastes.
Watersports lovers find heaven on a cruise of Croatia, the natural landscape allowing for everything from kayaking, to jet skiing and snorkelling.
What's best about Croatia is that the country's best attributes aren't just available during summer, but all year round. And visiting Croatia by superyacht in low season means that there is more time and space to veer off the beaten track, away from the hustle and bustle of Hvar, Split and Dubrovnik into the lesser-known parts of its wild coastline. The 40-mile-long archipelago jutting out from the coastline is home to a few of Croatia's well-kept treasures.
One is the medieval city Korčula, where cobblestone streets meander around a town shaped by castle towers and red-roofed houses. Pelješac is made up of tranquil beaches, quaint villages and lush mountains – the highest peak being Sv. Ilija (Snake Hill) with the surfer's paradise, Viganj, at its base. Within this landscape, an abundance of nature, gastronomy and local spirituality can be found.
While it is easy to lose yourself in the rich history of Zadar and the beautiful coves and beaches of Pag, a short sail down the coastline will land you in Šibenik. Home to the country's first superyacht marina, the historic city continues to beckon boaters to its protected waters. What is most notable about Šibenik is how well the past has been preserved in the charming fortressed old town and the UNESCO World Heritage List cathedral. While further out to sea there are numerous picturesque islets and reefs to be found, following the Krka River more inland is just as beautiful. Passing by medieval settlements, beautiful monasteries and forests belonging to hundreds of bird species, you will reach the start of the Krka National Park. Here there is nothing other than the noise of wild, unspoiled nature and cascading waterfalls.
Accessible only by boat, the Brijuni islands have much to adore. The uninhabited archipelago is populated by a national park, medieval ruins, hiking trails and three waterside hotels. And it is this quiet nature that has attracted the likes of world statesmen, the aristocracy, famous actors, musicians, artists and other prominent personalities over the years.
With 6,278km of coastline, Croatia is the more-than-perfect destination to visit by yacht. Along the way, there are many small island towns that are rich in historical and cultural heritage with plenty of capacity. For a yacht pulling up to a Croatian seaside town, there will be something for everyone, from the beautiful nature and sights, historical landmarks and finest local food and drinks, to the variety of sporting activities and health and wellbeing benefits.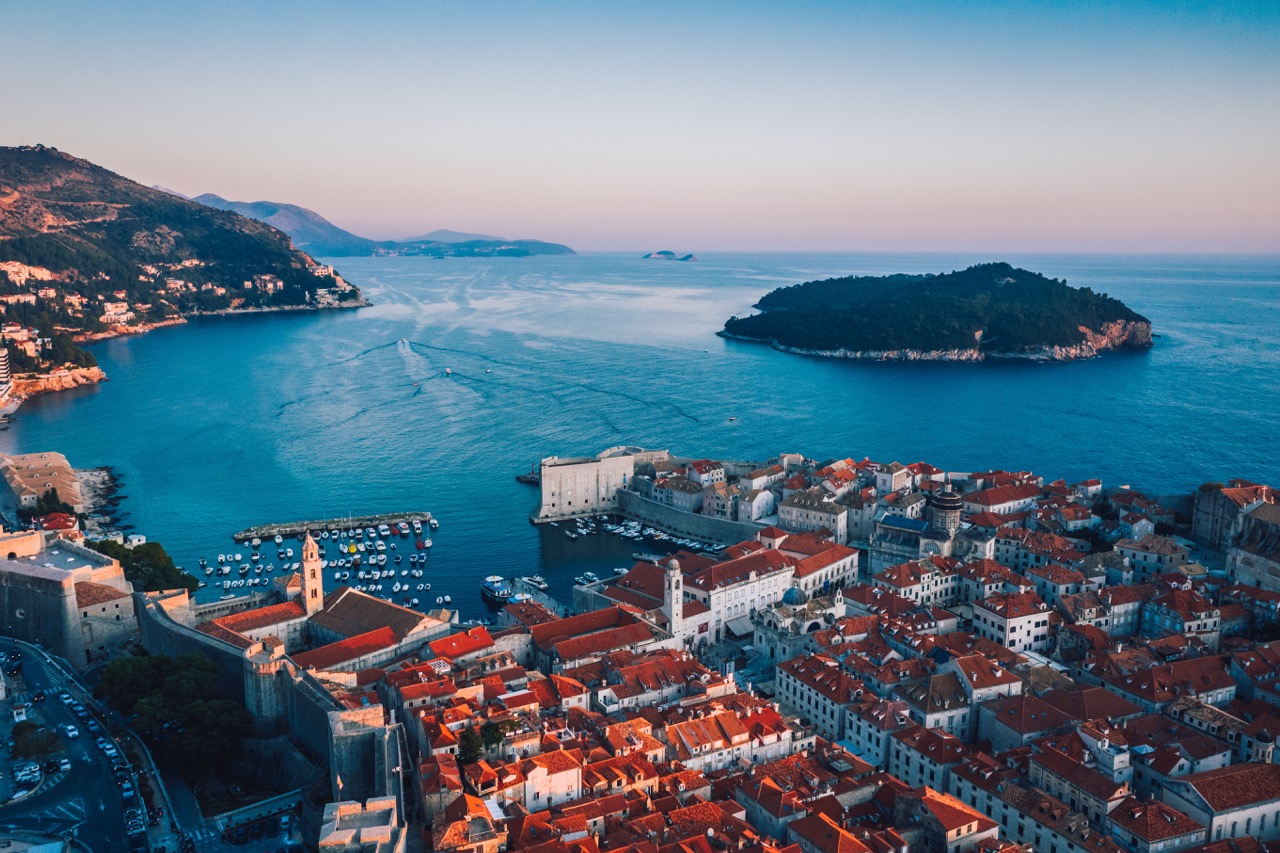 Dubrovnik
An obvious stop on your cruise of Croatia for all the right reasons, the city of Dubrovnik is famed for its collection of high-end restaurants and nightlife. Approaching Dubrovnik by yacht makes for an unforgettable experience, as the sea of terracotta rooftops of this stone settlement contrast with the surrounding cobalt blue water. The magical city is a treasure trove of excitement, culture and beauty, referred to as The Pearl of The Adriatic to those who know it. Dubrovnik's Old Town is under UNESCO protection as the most preserved medieval city in Europe.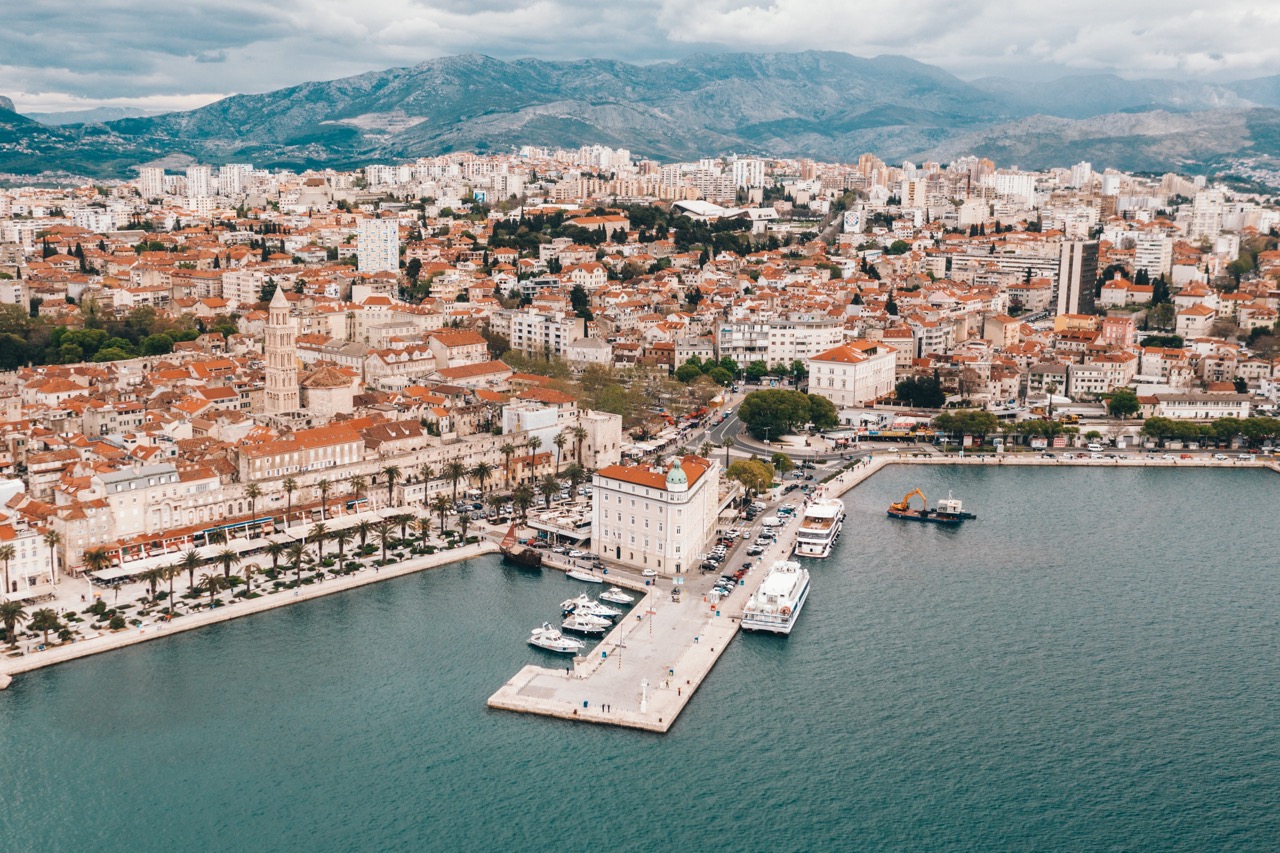 SPLIT
If you are looking for a melting pot of the modern and the medieval, be sure to visit Split, Croatia's second-largest city. Relaxation is the beating heart of Split, and however you choose to relax, the city has something for everyone. The city provides a lively and spirited nightlife scene with an array of clubs and bars, and places to dine are aplenty.
Foodies can indulge in one of Europe's largest and most colourful food markets overflowing with fresh produce and local experts, while history lovers can observe the Diocletian Palace, an ancient Roman palace that is extremely well preserved and offers an insight into the Split of the past.
What's more, kilometres of beach stretch away from the city on either side of Split. For an unspoilt panoramic view of all that the city has on offer, consider the gentle hike up Marjan Hill.